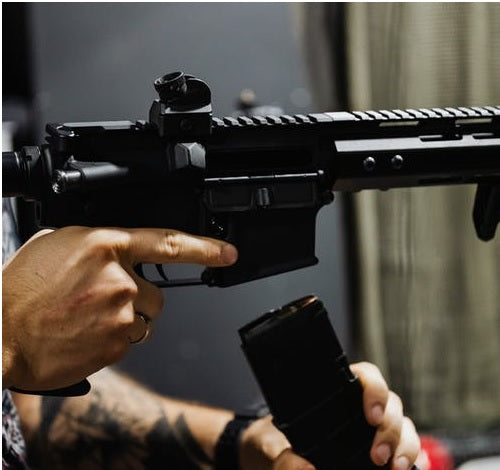 Depending on where you live, you might have come across other shooters that have built their own AR 15 platforms or other sporting rifles. Perhaps you've even played with the idea yourself.
The thing is, there's a difference between being proficient in shooting sports and being proficient with machining. There's also a difference between competitive shooting and gunsmithing.
Modern sporting rifles are more internal complex than many other firearms, so why would you ever want to finish your own AR15 lower receiver and complete one at home when you could just go to the local shop and pick one up?
Disclaimer
Before we get into this, we need to make one thing very clear. The purchase, alteration, transfer, and possession of lower receiver blanks are highly regulated beneath the federal level. Although the ATF does not consider 80% lowers, A.K.A. receiver blanks, to be firearms, they are restricted in several states.
Nothing in this post is intended to serve as legal advice. Before you begin a project associated with an AR15 lower receiver or a receiver blank, consult a firearms lawyer to make sure you are in compliance with all local laws.
Cost Savings: No Additional Fees or Taxes
Since the ATF has specified that receiver blanks are not firearms, they are not subject to the regulations of firearms. This also means they are not taxed (federally) as firearms. Some shooters choose to create their own sporting rifles from receiver blanks simply because they can save on taxes and fees.
In addition, if you live in a state that charges additional for a NICS check (and where it is legal to create your own rifle at home for personal use) then you can avoid that fee. With the right jig and tools, you can potentially save money completing a receiver blank, as opposed to purchasing a finished, functional firearm.
Beat the Shortages
There are tons of gun shops around the country at this very moment that are short not only on ammo but also on popular firearms, and one of the most popular firearms in the country is the AR-15. We don't know what it's like in your local shop, but let's just say that there are empty gun racks out there, and no shortage of demand. Gun sales have actually risen significantly over the past two years or so, especially to first-time buyers.
Some shooters considering finishing their own rifle at home from an AR-15 lower receiver blank might just be doing so because it is a way to create the desired platform without having to wait for the supply chain to catch up, which, in such a highly regulated market, can take a while. If your local gun shop doesn't have an AR-15 and you want one, you may be able to make one with a jig, a drill press, a receiver blank, and a build or parts kit that contains an upper receiver and everything else you need.
No Paperwork, Background Checks, or Serialization (Depending on Where You Live)
The ATF has specified that it is legal to create a firearm from a receiver blank at home, so long as the gun is for personal use. State and local laws vary. For example, in California, you need to apply for a serial number and engrave it on the AR15 lower receiver blank before finishing it,  but at the federal level, it is legal.
All local laws aside (which you must research before taking up such a project), completing an AR15 from an AR15 lower receiver blank will not require you to fill out a 4473. It also will not require you to undergo a NICS check, such as when you purchase a gun through an FFL. Federal law also does not require the serialization of receiver blanks, even after they have been converted into completed, fire-ready states.
Greater Ability to Expand with Accessories
Another reason some people choose to purchase AR15 lower receiver blanks and convert them at home before completing a rifle with a build kit is that you have so much more room for expansion and accessorization.
Since you're literally building the rifle from scratch, you can choose exactly what you want to include with the build. Not a fan of the Pic rail that comes with a platform that's had your attention? Get a KeyMod rail instead. Want to get one of those fancy new BCGs that are nickel-boron coated for permanent dry lubricity? Just add one in when you're building the gun after you've finished the lower. Interested in a corrosion-resistant, lightweight stripped lower receiver? Start the project with a 7075-T6 aluminum blank.
You can also exercise a lot of freedom when accessorizing with a build, too. For example, our Brass Goat AR brass catcher is designed to mount directly to the magwells of mil-spec AR15 lower receivers. The handguard you choose will also dictate how you can furnish your rifle with accessories, but since you'll be picking out the handguard, you get to choose how long your rail system will be and what you can mount.
Questions? Call Us!
If you have any questions about the compatibility of our Brass Goat, please get in touch with us at 1-833-MAGWELL or at admin@magwellmounts.com.