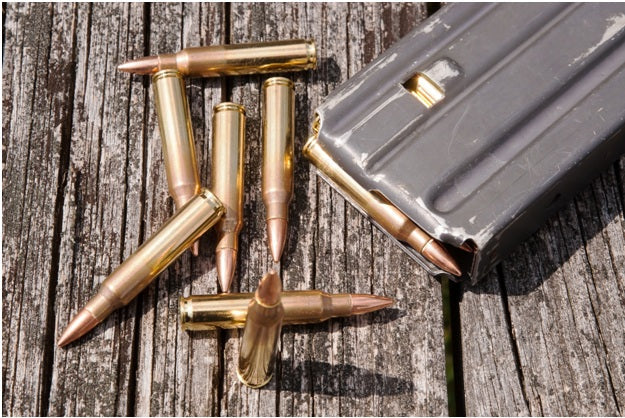 AR brass catchers may not be the most exciting attachments and accessories for sporting rifles. Optics, sights, lasers, lights, saddles, bipods, and even slings are better at holding the attention. After all, the functionality of a new optic is an exciting thing, and a brass catcher is simply necessary.
Perhaps that's a part of the reason that for so long the industry standard in brass catchers was something that might be called sub-standard. Many brass catchers work, categorically, but they leave a lot to be desired in terms of ergonomics, functionality, and durability. We took a long look at the problems associated with the brass catchers available to most shooters, then we took a step back and we made something that was entirely better.
Problems with "Traditional" AR Brass Catchers
For the longest time, the industry standard for brass catchers in short sports has been a sort of a mesh bag that attaches to your sporting rifle, kind of covers the ejection port, and hopefully captures the ejected brass, allowing the brass to enter the bag. Some of these have wireframe openings to provide better rigidity and enclose the ejection port to prevent any brass from going whither it chooses.
Some attach via a hook and loop closure that wraps around the handguard whereas some others attach to a portion of the rail over the top of your receiver. These mesh bag AR brass catchers do catch brass, but they present what can be called a veritable litany of problems to the experienced shooter.
For one, those that attach to the top of your receiver via the Pic rail will get in the way of mounting other accessories along that portion of rail and believe us when we say there are many other accessories that most shooters would like to mount on the tops of their rails instead of a brass catcher.
What's worse is that this configuration can obstruct your sight picture, which is a serious crutch. You do need to be able to see over the sights in order to connect with your target, and this is a glaring deficiency in many models of brass catchers.
These mesh bag wire catchers catch and hold a given amount of brass that is determined by the size of the bag and the cartridge pairing of the rifle. They're convenient and effective enough, and one of their virtues is that many of them can be emptied via a relatively convenient zipper at the bottom of the mesh bag.
However, as any of you reading this knows, a hot AR generates hot brass, and sometimes these mesh bags are prone to melting. Many of them advertise the contrary, and some synthetics are heat resistant, but if you put a few hundred rounds (or more) through your AR-15 rifle, that brass is going to get pretty persuasive.
Worst of all, sometimes these mesh bags actually catch fire. It's bad enough if they melt, but if it catches fire you're going to have to trash it, which is effectively the same as tossing money out the window. Adding to this headache is the fact that the previous scenario is basically a catastrophic failure of your brass catcher, which means you won't have one till you replace it.
Another issue these types of mesh bag brass catchers run into comes into sharp focus when you actually take them out in the field. They're convenient enough at range benches and in competitive matches, but any hunter who's ever really used one in the field knows what kind of mess they can become.
Brambles, thorns, and twigs grab onto these catchers and won't let go, which means you will either need to extricate yourself laboriously or rip your brass bag. Even if it doesn't inflict damage on your equipment, a situation like this is a headache no hunter needs. Carrying a sporting rifle through thick brush requires a much more tangle and tear-proof alternative.
Mesh bag brass catches are plagued by different issues in addition to these, but these are some of the most noticeable among them. We knew there was a better way to prevent brass from being scattered around your shooting area, and we created it.
It's called The Brass Goat, and we specifically designed it to rise above the competition.
Items We Addressed in The Brass Goat
When we developed The Brass Goat AR Brass Catcher, we made sure to address some of those problems listed in the last section while solving some other problems as well. At the end of it, we created a brass catcher that provided the following functionality.
The Brass Goat by Magwell Mounts is designed specifically for Mil-Spec AR-15 lower receivers and can attach to your Magwell in mere seconds. It requires no special tools to attach and snaps right on. Fast, easy, convenient, and practical, the Brass Goat represents a significant step in the right direction when compared to competitors, just in ease of mounting.
One of the problems with brass catcher bags is that they have somewhat bulky outlines and lack a slim profile. Our Brass Goat has a slim profile that lies fairly low against the ejection port and receiver. You might think that this type of design would encourage brass to jam, but it doesn't. It has a superior deflector design that won't jam and perfectly redirects brass down into the hopper that can be paired with it.
That same slim design is also ideal because it, unlike many other brass catchers, will not obstruct your sight picture. Other catchers that mount to your Picatinny rail can get in the way when you're shooting, making target acquisition over your iron sights difficult. With the Brass Goat, you'll never experience this same issue again.
Unlike the flimsy brass catcher mesh bags that have been the staple for years, The Brass Goat is made from high-impact ABS resin that is impressively tough and impervious to adverse conditions. It is effectively weatherproof and shockproof, shatter-resistant, and what's more, heat resistant.
The Brass Goat doesn't just work great in preventing hot brass from landing all over your shooting area, it also won't get destroyed from that hot brass. The tough plastic construction of The Brass Goat obviously won't catch fire due to hot brass, but it also won't melt.
Because The Brass Goat mounts to your Magwell and not to a section of your handguard or the rail over the top of your receiver, it keeps that space free for the mounting of other AR-15 accessories.
This is obviously valuable for anyone that mounts sights or optics to the top of their receivers, but it will also keep the side of your handguard free for saddle mounts or even tactical lights, which is just something else to think about. The design, overall, is significantly advanced over alternatives and provides a lot of additional functionality.
Additionally, The Brass Goat is light, tough, and basically impervious to the elements. It will not shrink or crack from cold and it also won't react adversely to excessive heat - which is evident enough from our other revelations.
Also, the tough ABS construction is physically tough, resilient to mechanical stresses, and will not absorb water, oils, or other such contaminants. Like other thoughtfully designed tactical gear, it is the image of resilience.
Unlike those mesh bags with larger profiles that are magnets for brush, twigs, thorns, and briars, The Brass Goat is effectively brush-proof. You can take it out in the bush with you and wade through the thickest of thickets. You'll still need to pull some leaves and fluff from the sharper angles of your rail system and dislodge loose plant parts from where they hang up on your platform, but your Brass Goat won't hang up or draw in thorns and other plant material.
Hunters know best that sometimes game leads you 300 yards into the thickest brush you've ever seen, and then 50 yards deeper. Your gear needs to be able to go with you, and The Brass Goat won't flinch.
Not every AR-15 is chambered in .223 Rem/5.56 NATO, nor is every other sporting rifle devised in its likeness. Many of them have been purposely designed around other, equally capable cartridges like .22 Nosler, 7.62x39mm, .300 Blackout, .450 Bushmaster, and countless others.
The Brass Goat is compatible with all of these and many more, including:
.17 Remington

.204 Ruger

.224 Valkyrie,

.35 Viper

.350 Legend

.458 SOCOM

.50 Beowulf

And many others
For a full list of cartridges with which The Brass Goat is compatible, please see our page on cartridge compatibility, and call us if you have any questions.
One more thing that should be mentioned is that The Brass Goat is also compatible with a detachable hopper that will hold up to 30 rounds of .223 Remington casings. Unlike the bags that must be unzipped to empty them, the hopper is easily detachable and can be just as easily dumped before reattaching. You could also just carry along a spare hopper and cycle through them as needed.
So, Who Needs an AR Brass Catcher?
With all of that being broached, you might be wondering who needs an AR brass catcher, and the honest answer is "basically any shooter." There are only a few situations in which a brass catcher is an absolute necessity, but any of the following categories of shooters will be well served by this highly useful AR accessory.
Some shooters enjoy going to the range and punching hundreds if not thousands of holes in paper targets or making orchestral music with the singing of steel targets. This makes a mess of brass very quickly, and if you keep your brass, you'll be spending some real quality time with a rake and scoop shovel if you don't keep a brass catcher in your range bag.
Many shooting competitions have the shooters on a highly mobile course, during the exploration of which they would lose their brass if they didn't carry along a brass catcher. The competition itself might even require you to have one. Whatever the case, whether in accordance with requirements or your personal preference, it's a good accessory to have.
Hunters head into thick country where it would become almost impossible to find spent brass that a rifle has regurgitated. Sometimes even bright yellow 20 gauge shells are hard to find in the brush. If you keep your brass and hunt with an autoloader, a brass catcher becomes a must-have accessory.
Reloaders keep their brass as a matter of course. Anyone with an interest in handloading and reloading has a pronounced use for an AR brass catcher.
Finally, some ranges require shooters to clean up their spent brass, making a brass catcher a requirement rather than a nicety. If your range of choice has any such rules, make life easier and up your experience with a quality brass catcher that's better by design.
Contact Us to Learn More
If you have any questions about compatibility, how to use our brass catcher, or even about additional features, we welcome you to contact us for more information. You can reach us at 1-833-MAGWELL or by email at admin@magwellmounts.com.
You're halfway to a more enjoyable shooting experience that will save your spent brass with ease and can be attached in mere seconds - if you have any questions, be sure to call us!