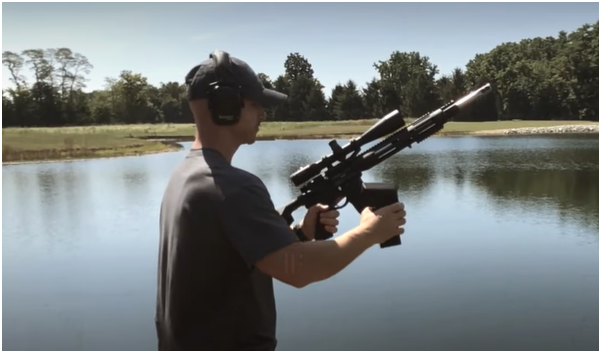 Whether you're tired of sweeping up spent shells, figure that now is a good time to take up reloading, or you just started shooting at a range that requires the use of brass catchers, an AR-15 shell catcher is a great investment.
In fact, the Brass Goat is a better investment than most. Here are some frequently asked questions, answered. If you don't see yours listed, please feel free to get in touch with us to clear it up.
1. Do AR-15 shell catchers jam?
Some AR shell catchers can jam, which is an unfortunate reality of some designs. This can happen when a hot shell enters the brass catcher's bag at an odd angle, which can cause it to wedge against the receiver and bag.
Some brass catchers will not hold their advertised capacity when brass enters them and does not fall into place as required for full capacity. This is a separate issue, not really a jam but undesirable nonetheless.
Be all that as it may, the Brass Goat is designed never to jam when used properly. Its deflector has been carefully designed so as to guide brass into the compatible hopper without jamming - solving that all-too-common problem for other brass catchers.
2. How much rail space does the Brass Goat take?
One of the best things about the Brass Goat is that it does not take up any Picatinny rail space, or any rail space whatsoever. It doesn't mount to your rifle's rail or handguard. It mounts to the magwells of mil-spec AR-15 lower receivers.
The Brass Goat does not require tools to install or remove, and it can be quickly attached or detached in a matter of seconds.
The fact that the Brass Goat doesn't require any rail space is a stark departure from the designs of other AR 15 shell catchers and a welcome one. Because of this feature, the Brass Goat will not interrupt your sight picture and it will also keep your rail space clear for mounting other mission-critical shooting accessories.
3. Can I use rubbing alcohol or solvents to clean the Brass Goat?
While you should keep your Brass Goat clean (especially if you reload) we cannot suggest the use of solvents or rubbing alcohol. In fact, we advise specifically that you do not use them when cleaning this AR 15 shell catcher.
Both fouling solvents and rubbing alcohol can be effective at removing carbon residue and powder fouling, they can be harmful to the ABS resin that makes up the Brass Goat. As tough as its construction is to the elements, it's not designed to be cleaned with solvents.
Solvents like Hoppe's No. 9 may damage the catcher or hopper, and rubbing alcohol, though it will not cause damage quickly, can dehydrate the ABS resin over time, causing fading, brittleness, and cracking.
4. What cartridges is the Brass Goat compatible with?
The Brass Goat and its standard size hopper are capable of catching and containing up to 30 rounds of .223 or 5.56 empty cartridges, but they are also compatible with a wide range of other cartridges as well.
Some of the other popular cartridges with which the Brass Goat is compatible are:
●.204 Ruger
●.22 Nosler
●7.62x39mm (NOT .308)
●.50 Beowulf
For a full list of compatible cartridges, please consult our page on Brass Goat compatibility.
5. Do brass catchers melt?
The basic purpose of any AR-15 shell catcher is to prevent hot brass from landing all around the shooting area. While they are effective within bounds at corraling spent brass, they have been known to melt or even catch fire.
This occurs only rarely, and even then only in the case of mesh bag brass catchers when the mesh bag is unable to vent the heat of accumulated hot brass. They are typically made of high-resistant nylon, but if the bag gets overwhelmed, it can melt or catch fire.
The Brass Goat, which is made of solid, molded ABS resin, is not prone to the same shortcoming.
6. How do you empty it if it doesn't have a mesh bag?

Most brass catchers attach to the rail and contain a wire frame that holds a mesh bag semi-rigid over the ejection port. These brass traps can be emptied without needing to remove them from the rifle by opening a zipper at the bottom of the bag and shaking out the brass.
The Brass Goat features a different but equally useful design. It is compatible with hoppers that can be removed and reattached in a matter of seconds. This makes it equally easy to catch and empty spent brass.
Have a Different Question? Get in Touch with Us!
Do you have additional questions about this AR-15 shell catcher so you can make your own comparisons? Get in touch with us at 1-833-MAGWELL or by email at Admin@MagwellMounts.com and we would be more than happy to help you out.