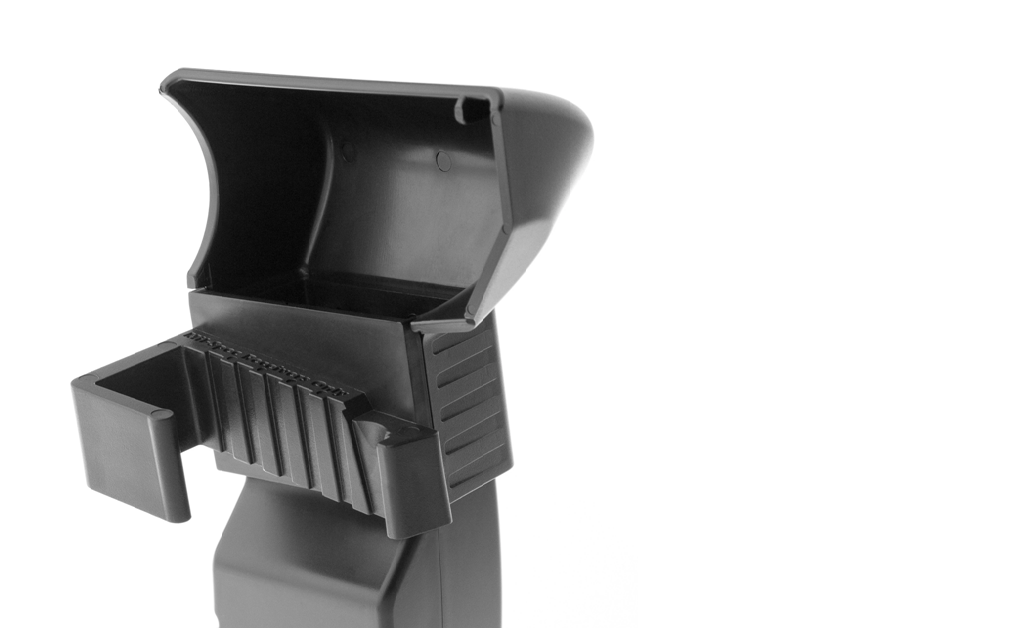 Type "Best AR-15 brass catcher" into Google and the first four (or more) results will be listicles and reviews of the so-called "best" brass catchers on the market. No doubt, these articles are ranking so highly because many shooters like you want to learn more about the relative attributes and strengths of each, likely with the intention of buying the best one for your gun.
But, with all of that said, let's take a look at our own Brass Goat, with particular respect to one of its more unassuming features. If we can make a case for the best AR-15 brass catcher, it has to do with the fact that this one keeps your rail space clear - and others should as well.
Before you jump the proverbial gun, no, it isn't because the Brass Goat is only compatible with certain types of rails like Pic rails or M-LOK systems. That's not the reason at all. In fact, the Brass Goat doesn't mount to rail space, period.
So why does that help define it as one of the best if not the best? Let's peel back some layers here.
Where Does It Mount?
First, there's nothing miraculous about the Brass Goat in this respect. It simply doesn't mount to your rail space. Instead, it mounts to the lower receiver magwells of mil-spec AR-15 lower receivers (forged receivers). For what it's worth, it also mounts without the need for tools. It's easy to attach and can be both attached and detached in a matter of seconds.
Other than the fact that it doesn't require tools (and most if not all rail-mounted accessories do) why is it such a big deal to keep rail space clear?
You might be thinking it has to do with keeping that space open for other accessories, like optics, lights or side-saddle mounts. In some respects, it does allow you to maximize your rail space, but that's not the primary objective.
The reason for this is that most rail-mounted brass catchers won't bet in the way of optics because they mount to the same side of the rifle as the ejection port, rather than to the rail over the receiver. One might argue this would get in the way of an accessory like a side or offset-mounted rifle light, but realistically, brass catchers sit farther back on the rail.
Though it will allow you to use your full rail space, it really has more to do with sight picture than keeping your rail clear for accessories.
Why Does This Matter?
If keeping your rail clear isn't important for the purposes of mounting additional accessories, then you'd better expect an even more important reason, and we have one. It has to do with sight picture, reactivity, and target acquisition.
Say what you will, the more interfering elements there are over your receiver and at the top left and right near your iron sights, the longer it will take you to acquire a target, establish positive ID, and make a connecting shot. For seasoned, experienced shooters, this might range on the matter of milliseconds, but milliseconds count - whether you're shooting for your life, to put food on the table, or being scored in a competition.
Since the Brass Goat mounts to the magwell of your rifle's lower receiver instead of any rail space, it will keep your sight picture much clearer than even the slimmest, lightest alternatives. Plus, it's worth noting that we intentionally designed the Brass Goat with a slim profile and a small footprint so it will generally stay out of your way when you're at the shooting range or competing. Wherever you shoot, the Brass Goat will be less in your way than other brass catchers.
Allowing for a more open sight picture is less distracting and will help you develop good habits when you're practicing. With time, attention, and of course plenty of hours of training, you may be able to shave milliseconds off of your target acquisition time - not to mention the fact that you'll enjoy a much clearer, less cluttered, less distracting sight picture overall.
Call It The Best AR-15 Brass Catcher - That's Not The Only Reason

For what it's worth, the Brass Goat is less distracting and more solid in other ways, too - literally. Since it lacks the "heat-resistant" mesh of some other Pic rail brass catchers, it doesn't move around when full, which is a distracting nuisance, albeit a minor one.
You'll also take note of the fact that we could do no more than place "heat-resistant" in quotes, concerning the "heat-resistant" nylon that some of these shall catcher manufacturers use. Heat-resistant or not, they've been known to melt and even catch fire. Whether you can attest to such happenstance from personal experience or not, we can firmly assure you that such occurrences are firmly out of the scope of reasonable possibility with the Brass Goat. It's made from hard, molded, ABS-resin. Even hot, spent brass won't be able to melt it, much less make it catch fire.
The fact that it's made of hard, molded plastic also means it's effectively impossible for this shell catcher to hang up on gear or brush, making it perfect for nearly all pursuits. And, while it does lack the signature zipper at the bottom of the mesh bag, it is compatible with removable hoppers which can hold up to 30 rounds of spent casings of .223 or 5.56. That said, it's also compatible with other cartridges as well - just check out Brass Goat Compatibility for more information.
Call it the best AR-15 brass catcher if you will. There are good reasons for doing so, whether you include it in a fabled listicle, review, or not. It speaks for itself.
Follow Us to Stay Up to Date
Want to learn more about our Brass Goat, one of the best of the best AR-15 brass catchers on the market? Get in touch with us directly at Amin@MagwellMounts.com or 1-833-MAGWELL. You can also contact us online if you prefer.
Make sure you also follow us on our social accounts so you can stay up to date with news and developments. Follow us on Facebook, Instagram, and YouTube so you never miss a beat.