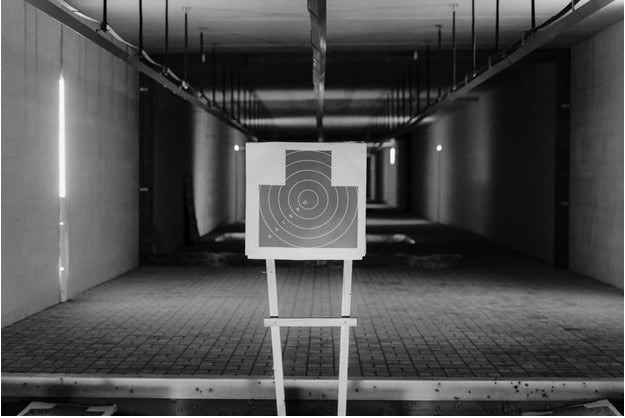 For the most part, searches for the "best AR 15 brass catchers" turn up listicles with a bunch of different options. Some of them turn up reviews and testimonials.
We're going to take a slightly different angle here. We're going to look at two different styles, one of which is extremely common in the shooting industry and the other, which is, well, not so common.
This is interesting, considering the reason behind the design of our Brass Goat. So let's get into it.
Mesh Bag Brass Catcher: How It Works
Most AR-15 brass catchers (including those that claim to be the best) are made of a wire frame that typically has Picatinny rail mounts. Sometimes these mount to the side of the handguard. Other times, they mount on the top rail or over the top of the receiver.
These mesh bag brass catchers are made with heat-resistant materials (typically heat-resistant nylon) stretched over the wire frame of the brass trap. Occasionally they feature a sort of hook and loop closure to secure them to the wire frame or mounting bracket.
The wire frame is opened in such a way that it covers the ejection port so that when the firearm is discharged, the spent brass is ejected into the open space and falls into the mesh bag. These sorts of brass catchers typically have a zipper at the bottom that can be opened so you can empty the brass casings without messing around with the mounting system.
In theory, the design is watertight. In practice, not so much.
Do they work? Certainly, but to call these designs the best AR 15 brass catchers would be slightly misguided at best.
Let's take a look at some of the shortcomings of this design.
For one thing, sometimes the arrangement of the wire form of the shell catcher doesn't adequately capture brass. Instead, it can cause jams.
Despite the fact that these brash catchers claim to be made from heat-resistant mesh materials, they're prone to a number of different problems. As you know, spent brass can be quite hot. These mesh bags have been known to melt and in some cases, they can even catch fire.
On top of that, the design is inherently bulky and obstructs the shooter's sight picture. If that wasn't bad enough, these sorts of brass catchers will invariably take up much-needed rail space.
It gets "better." The zipper design is intended to be practical and save time - but would you like to tell us how you can safely manipulate the zipper on the bottom of a brass catcher while your other hand supports the rifle? It's not really convenient in practice, at all. You need to clear the firearm and set it down to empty it. The best we can say is you don't need to remove the brass catcher from the firearm.
Finally, these things are hard to clean. The mesh is a net (literally) for fouling and powder residue.
So now let's take a look at how we made it better.
The Solid ABS Construction of the Brass Goat
On the hunt for the best AR 15 brass catcher, we came up with the Brass Goat.
It is not made with "heat resistant" mesh. It is made with solid molded ABS resin. No matter how hot or intense your firing session gets, the Brass Goat will not melt and it certainly won't catch fire.
It does not take up rail space. It is easy to attach and requires no tools. In fact, it snaps into place on mil-spec AR-15 magwells and can be detached just as easily.
It has no zipper at the bottom. Actually, the brass goat is more of a deflector than an AR-15 brass catcher. It's compatible with a hopper that's easily detachable (also without tools) and can hold up to 30 rounds of .223. That solves another problem.
Because of its design, it does not obstruct the sight picture or clutter up rail space. It can also be quickly and easily emptied.
The Brass Goat is also optimally designed and will not jam when properly mounted and used with compatible ammunition that includes a wide range of popular calibers, including .223, 5.56, .22 Nosler, and .300 Blackout. For more information, please see Brass Goat Compatibility.
Finally, the Brass Goat is easy to clean. Since it lacks a mesh design, it can just be wiped clean with warm water inside and out as needed. It's as simple as that.
In other words, we stopped overthinking the design and created a high-quality brass catcher that you might well call the best.
Which Is the Best AR-15 Brass Catcher?
We hardly feel the need to say it. Is the best AR 15 brass catcher difficult to clean, hard to use, and likely to jam or melt? Or is it one that installs easily, does not obstruct the sight picture, will not jam or melt, and is easy to clean?
You decide.
Meanwhile, contact us at Admin@MagwellMounts.com or at 1-833-MAGWELL if you have any questions.