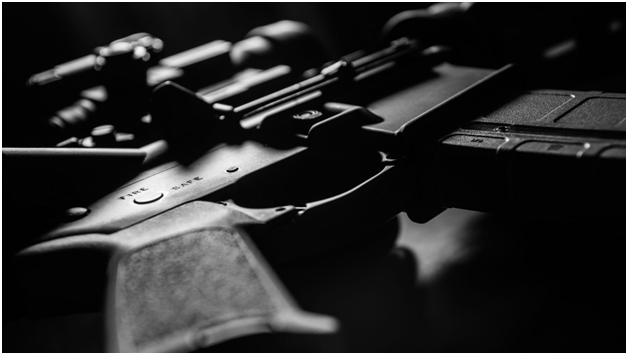 Looking for some of the best accessories for an AR 15? We have you covered. Trick your favorite sporter out with some of these.
1. Magpul Industries PRS Gen3 stock
The Magpul Industries PRS Gen3 stock is a miracle of modern gunstocks. It features toolless adjusts for length of pull and comb height, enabling quick and precise adjustments to be made on the fly in the field. It also features a non-slip rubber butt-pad which is adjustable for height and cant and also contains an integral sling mount. It's even capable of withstanding immense recoil, rated up through .50 BMG. (Note: if you want something more basic, get a Magpul MOE stock).
2. A muzzle brake
What can we say - a muzzle brake is a great thing, provided you're wearing adequate hearing protection. We're even willing to be brand-agnostic with our recommendation.
A muzzle brake will substantially reduce recoil (which isn't a huge deal with .223) but it will also keep muzzle jump to a minimum, enabling you to keep your sights trained on the target for quicker, more accurate follow-up shots and minimal obstruction of the sight picture.
3. Magpul Gen3 PMAGs (Window)
You might think a magazine is just a magazine until you start charging Magpul Gen3 PMAGs. They contain internal stainless steel springs for durability and corrosion resistance, a 4-way anti-tilt follower, and can be disassembled quickly and easily in the field - without tools - for ease of maintenance.
They're also made with updated, enhanced synthetic materials for heightened durability and contain clear visibility windows so you can be sure at a glance of your remaining firepower.
4. Vortex Optics Strikefire II Red Dot Sight
This red dot sight packs a lot of punch. With integral lens covers and up to 7,000 hours of battery life, it's reliable and optimally designed for performance. It's also water-resistant and offers night vision capabilities, with clear lenses and both red and green dots.
Easy and intuitive to adjust and use, this is a tough, durable red dot sight that will go the distance - and one of the best accessories for AR 15 rifles out there.
5. Offset, backup iron sights
Here's another brand-agnostic recommendation - don't be without iron sights, even if you have a red dot or a scope over your receiver.
Get a pair of flip-up, offset iron sights that you can use if your red dot loses power or it's too dark to use the scope. They'll never go dead, are waterproof, effectively dust-proof, and reliable in all climates.
Plus, two is one and one is none. Be ready with the backup.
6. Brass Goat brass catcher
A brass catcher is also a highly valuable AR15 accessory is a Brass Goat brass catcher, especially for competitive shooters, hunters, and reloaders.
The Brass Goat doesn't require tools to mount, and doesn't mount to a Picatinny rail. Instead, it mounts directly to the magwell of mil-spec lower receivers. Being made from high-quality, durable ABS resin, it will never melt, catch fire, or jam.
7. A vertical grip
Handguard not giving you the control or ergonomics you need to develop confidence? Get a folding vertical grip and tack it onto the bottom of your handguard. You'll be able to exhibit greater control for more accurate shot placement.
8. A one-point sling
A single-point sling aids in weapon retention better than many two-point slings, enabling you to keep control of your AR-15 rifle in the event you need to draw your sidearm. Additionally, a single point sling with a QD mount is easier to attach and detach than a traditional sling and can keep both your hands-free.
9. Rail covers
Not an exciting AR-15 accessory, we'll admit, and they do add weight to your rifle, but if you have a Pic rail handguard and the open rail space is uncomfortable to grip or catches on your clothes, go ahead and cover them up with some rail covers.
Best Accessories for AR 15 Rifles: Upgrades
In addition to these best accessories for AR 15 rifles, here are some top upgrades you can make to boost the performance of your platform.
1. An oversized, ambidextrous charging handle.
When you're very cold, wearing thick gloves, or in the dark, it can be hard to find your charging handle instinctively, even if you've trained extensively with the rifle. Adding an oversized, ambidextrous charging handle will improve access even under adverse conditions: and best of all, some art designed to direct ported gas away from your face.
2. Geissele Super Semi-Automatic (SSAⓇ) Trigger
This is a non-adjustable, two-stage trigger that is light and crisp for accuracy at long ranges while still remaining suitable for close-quarters encounters. The total trigger pull weight is between 4.25 and 4.75 pounds.
Mil-spec triggers may leave you feeling like there's something more you could experience. Solving a gritty, standard trigger can be as simple as replacing the entire assembly with an upgrade like the Geissele SSAⓇ (although the G2S is another great choice too).
3. Hogue Overmold AR-15 Pistol Grip
Don't just settle for any AR pistol grip. The Hogue Overmold AR-15 Pistol Grip is designed for superior grip, control, and comfort. It features a non-slip, textured surface that is extremely tactile and non-irritating, as well as comfortable finger grooves and palm swells. Best of all, it's impervious to water, oils, and solvents, including those you're likely to use when cleaning your rifle.
Trick your rifle out with some of these accessories - they're some of the best upgrades and accessories for your AR 15.
If you have any questions, feel free to get in touch with us at 1-833-MAGWELL or at admin@magwellmounts.com.