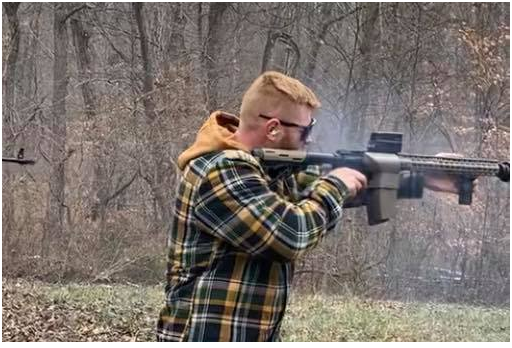 If you type in "best AR brass catcher" into the Google search bar, you're going to come up with a bunch of (mostly) consumer-generated lists of the best AR brass catchers, tested and reviewed.
These are good, but in some instances, they don't answer simple questions about what makes them the best - if they are at all.
Start with this step-by-step guide and if you can check off these "prerequisites" we're confident you'll have found the best brass catcher out there and won't need to rely solely on reviews.
Make Sure It Fits Your Firearm
The most important prerequisite is that the brass catcher in question fits your firearm. Let's just get one thing out in the open - if it doesn't fit your gun, it could be the "best" AR brass catcher according to 35 other metrics, but you won't be able to use it.
For example, some brass catchers are rail-specific, making them more or less attractive to shooters based on the handguard or rail system on their gun. That said, you can purchase a rail adapter if necessary, closing the gap.
Our Brass Goat, by contrast to these rail-mounted options, mounts to mil-spec AR-15 lower receiver magwells. It is not compatible with receivers with left-handed ejection ports or with the AR-10. For a full listing of compatible and non-compatible components, please consult our page on Brass Goat compatibility.
Make Sure It Is Cartridge Compatible
It is equally important to ensure that the brass catcher in question for you is also compatible with what you shoot. If it doesn't fit the cartridge your rifle shoots, how can it be the best AR brass catcher on the market?
It can't, which makes this a priority. Naturally, the Brass Goat is compatible with .223 and 5.56, as well as other popular cartridges like .204 Ruger, 22 Nosler, and .300 Blackout, but it is also compatible with other less widely used cartridges as well.
For a complete list of cartridge compatibility, please check the compatibility link listed in the previous section.
Make Sure It Suits Your Intended Purpose
Once you have assured yourself that a brass catcher will fit your rifle and catch your spent casings, it's time to move on to purpose.
For target shooters, the main function of a brass catcher will be to make it easier to capture spent brass so that they don't need to run around the bench scooping them up at the end of a session of range therapy. Capacity might be important, or ease of emptying, especially for high volume shooting. The Brass Goat is compatible with a detachable hopper that holds up to 30 rounds of .223 and can be easily removed and emptied.
For competition shooters, lightweight and a slim profile might be more important, since they need their rifles to be light, agile, slim, and maneuverable. Capacity might not be quite as important, but the Brass Goat's thin design and dense nature make it highly attractive. The fact that it mounts to the magwell also prevents it from becoming a sight picture obstruction.
Both competition shooters and casual plinksters will appreciate the hard, ABS resin construction of the Brass Goat, which prevents it from melting or catching fire. Unlike other Picatinny rail mounted brass catchers which are made of heat-resistant mesh, the ABS of the Brass Goat is effectively impervious. Heat-resistant nylon is not heat-proof, but the Brass Goat nearly is.
Hunters will want a brass catcher that not only prevents them from losing empty cartridges in the field, but will not hang up on the thorns, twigs, or brush. The hard ABS construction will slip silently through the field. It's also worth noting that for small game hunters, there is a .22 rimfire compatible brass goat, compatible with the S&W M&P 15-22.
It Should Be Easy to Attach
The Brass Goat snaps onto lower receiver magwells in mere seconds without the need for tools and is just as easy to attach and detach. No tools are needed, in contrast to Pic rail brass catchers that can be a hassle to remove or replace. The mounting system is straightforward, intuitive, and time-saving.
It Should Be Easy to Empty and Clean
While mesh bag AR-15 brass catchers usually have a zipper at the bottom of the bag to facilitate the emptying of ejected brass casings, the Brass Goat has a removable hopper that can be detached and emptied in just as little time.
Also, lacking mesh construction, it's much easier to wipe down. There are no fibers or voids to allow fouling, dust, and other detritus to accumulate. A damp rag or microfiber cloth will in most cases be all that's needed to restore the Brass Goat to its original state - not to mention, being made of durable synthetic material, it is corrosion-proof.
It Should Keep Your Site Picture Clear
Since the Brass Goat mounts to a lower receiver magwell instead of to a section of rail, as a brass trap, it is far superior for keeping a sight picture clear. This is most important for competition shooters that are scored on timing as well as accuracy, where seconds if not milliseconds count.
It Should Be Specifically Engineer to Help Alleviate Known Issues with Brass Catchers

As has been stated, the Brass Goat is made from durable, hard, molded ABS resin. It will not catch fire or melt, will not jam, and is easy to remove, clean, and replace, all without tools. It keeps the sight picture clear and will also not tangle in gear or hang up on interposing brush when out in the field.
Consult Reviews to Find the Best AR Brass Catcher
Sometimes a trustworthy user review says in 50 words what a blog cannot say in 1,000, even when the blog is informative and helpful. We know how helpful reviews can be for our customers, so we have an entire page dedicated to them.
Please consult our page on Brass Goat reviews to learn more. As of the time of this posting, the Brass Goat holds an average rating of 4.9 out of 5 stars, based on almost 800 reviews (and counting!) - and moreover, 97% of users awarded the Brass Goat either a 4 or 5-star review. If that doesn't make it one of the best AR brass catchers, we can't say what will.
Take a look through them and get in contact with us at Admin@MagwellMounts.com or at 1-833-MAGWELL if you have any questions.